OCTANE ARMAMENT | ADVANCED ARMAMENT | SWR | YANKEE HILL | GEMTECH | COASTAL GUN | KNIGHT'S ARMAMENT | SUREFIRE | SILENCERCO | BOWERS
---
GEMTECH began in 1993, as a supergroup of already-leading suppressor designers with roots in the silencer business going back to 1976. Mixing this old-school experience with modern CNC and robotic construction methods, honest business ethics, and a customer-first attitude, GEMTECH has grown year after year, proving itself over time while other companies with their "lifetime guarantees" came and went. You will rarely hear anything other than the highest praise for our customer service and general lack of internet drama -- We do our job quietly and do it well: Designing, testing, manufacturing, servicing, and selling the best quality silencers and accessories at absolutely fair prices.
GEMTECH is in duty use around the world with many Soldiers, Sailors, Airmen, and Marines of the United States military, Intelligence Community, Federal Law Enforcement, state and local peace officers, wildlife and agricultural agencies, friendly foreign military and police, and providing excellent service with tens of thousands of civilian sport shooters. We serve each part of our diverse client base to the best of our ability, and every day we come to work to help out people just like you.
---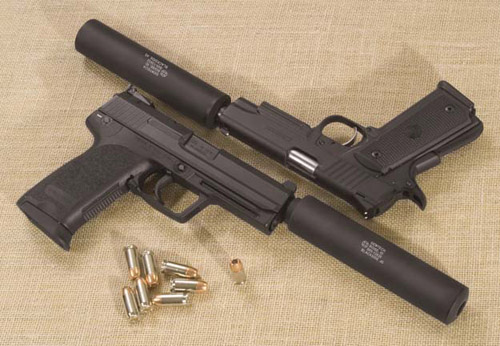 GEMTECH BLACKSIDE-45
The Blackside-45 is a handgun suppressor designed from the ground up to be the shortest, lightest weight, and highest efficiency suppressor in the most compact package possible. Highest performance is achieved with only a minimal amount of artificial environment (such as light oil). Although not as efficient dry, it is acceptable when artificial environment media is unavailable. The mount features positive front stop threading to reduce thread wear and provide proper alignment on 1911 and other pistols. Extensive testing has demonstrated that a recoil booster is not necessary for many host firearms, including the 1911, Smith & Wesson M&P45, and the majority of the difficult to cycle full-sized HK USP Tactical. At extra cost the Blackside can be ordered with a recoil booster (L.I.D.) or one can be retrofitted later. The upgrade charge of $180 is the difference between the boosted and non-boosted version.
Constructed of high tensile strength aluminum alloys heat treated to Gemtech specifications, this unit does not utilize any bore obstructing "wipes" or mesh. The advanced frequency shifting baffle design creates outstanding performance. With complete suppression of the muzzle flash signature, this device is an exceptionally effective tool for tactical users.
The Blackside-45 is currently available threaded either M16x1-LH for the HK USP Tactical, M16x1-RH for the MK23/SOCOM, and 0.578-28 for the Glock-21, 1911, and other barrels. The recoil boosted (L.I.D.) version is currently available threaded 0.578-28 and M16x1-LH for the USP Tactical.
Specifications:
Overall Length: 6.1 Inche
Diameter: 1.37 Inche
Weight: 5.2
Material: High Tensile Strength Aluminum

CALL OR EMAIL FOR PRICE
GEMTECH BLACKSIDE-40
The Blackside suppressor in .40 caliber is currently available for a number of handguns designed for the .40 S&W cartridge. Specifications are similar to the .45 caliber version. However, by default, all the BLACKSIDE-40 suppressors incorporate an integral L.I.D. (recoil booster), while the .45 caliber BLACKSIDE-45 does not. The Blackside-40 suppressor is threaded 9/16-24 (2A). On special order it can be supplied threaded M14.5x1-LH for the HK USP Tactical in .40 caliber.
Specifications:
Overall Length: 6.5 Inche
Diameter: 1.37 Inche
Weight: 10
Material: High Tensile Strength Aluminum

CALL OR EMAIL FOR PRICE