OCTANE ARMAMENT | ADVANCED ARMAMENT | SWR | YANKEE HILL | GEMTECH | COASTAL GUN | KNIGHT'S ARMAMENT | SUREFIRE | SILENCERCO | BOWERS
---
During research and development for a particular product line, laid out on a white board in the company's board room, we can see a list of pros and cons of products that are already on the market. With every pro listed on that white board, you will see a way we think we can improve. With every con listed, you will see how we believe we can solve the problem. We think of what the customer wants, what the professional needs, and what just makes sense. We listen to the industry and peruse forum posted wish lists. We design our silencers to meet the demands of our customers and make what they want. If our customers want an eccentric designed pistol suppressor, we give it to them. If they want a .22 rimfire silencer that disassembles, we do what has never been done and deliver the best. Our channels are open to you. Please, let us know what you desire and we will listen. We get to the heart of the issue and bring the products to life. And to keep them alive, we offer a lifetime warranty on all of our products.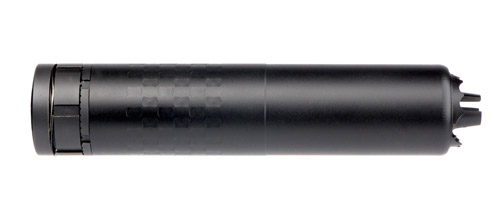 SILENCERCO SAKER
The 5.56 Saker is the most advanced rifle suppressor on the market. Packed with features never before offered in the industry, the Saker is yet another game changing product offered by Silencerco.
The Saker has an interchangeable front cap feature for different purposes such as a flash hider. The baffles are made from an exotic material that has never been offered in silencers and is approximately 30% stronger than Inconel®. The Saker has several patent pending technologies that place it leagues above it's competition. Made for durability, accuracy, and function, the Saker is Superior Silence.
FEATURES
Silencerco's Multiple Accessory Attachment Device (MAAD) allows you to interchange the Saker's mount so that you can attach the Saker to your preexisting quick detach mount and save hundreds of dollars.
This patent pending baffle technology protects the Saker's baffles from erosion thus increasing its durability. Much as armor on an armored vehicle deflects the debris from an IED, the Hoplon Baffle deflects debris and cuts down on baffle erosion up to 90%.
The TrifectaRS flash hider is the most advanced quick detach mount on earth. The RS stands for Resonance Suppression which is a patent pending technology that keeps the flash hider from ringing like a tuning fork. The TrifectaRS also allows the Saker to be attached and detached from the rifle quickly with one hand.
Specifications: COMING SOON!
Price: TBD

---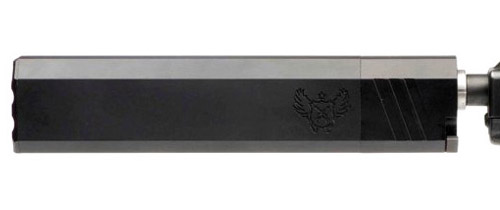 SILENCERCO OSPREY 45 (also available in 40 s&w and 9mm)
SILENCERCO'S OSPREY FAMILY OF PISTOL SUPPRESSORS (OR SILENCERS, AS OFTEN CALLED) IS A PERFECT BLEND OF FORM AND FUNCTION.
With the modern combat handgun in mind, Silencerco set out to create a silencer that performs well and looks like it belongs—the best possible marriage between host weapon and silencer. Silencerco went to work to make a suppressor that maximizes sound suppression levels, allows the use of more host pistols with factory sights, and has more operationally friendly features. What was created was the Osprey pistol silencer available for 9mm, .40 S&W, and 45ACP.
Specifications:
Caliber: 45acp, 40s&w, 9mm
Overall Length: 8.0625", 7.0625" (9mm)
Diameter: 1.3"W x 1.75"H
Weight: 11.1oz, 9.8oz (9mm)
Suppression Level: 125 dB with 147gr ammo
Material: 7075 T6 Aluminum, 6061 T6 Aluminumm
Price: $849.95
Stock: ACCEPTING ORDERS!
---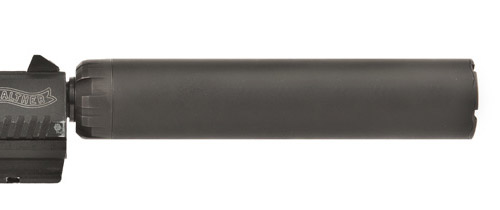 SWR OCTANE 9 HD
Because the .22 LR round is not copper jacketed, molten lead and carbon debris will explode into the silencer when the projectile exits the muzzle. After some time, it is possible for a .22 suppressor to fill completely with lead and become heavy and ineffective. To avoid this issue, .22 silencers must be disassembled for cleaning and regular maintenance.
Specifications:
Caliber: .17 hmr, .22 mag, .22 wmr, 5.7*28 FN
Overall Length: 5.08"
Diameter: 1.062 Inches
Weight: 6.5oz
Suppression Level: 41 dB
Material: 17-4 PH Stainless Steel
Price: $475 Mounts Extra
Stock: ACCEPTING ORDERS!
---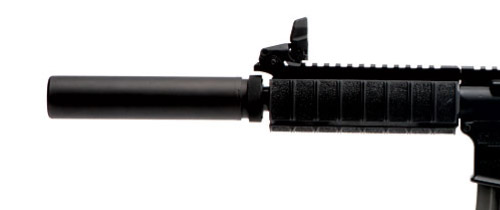 SWR SPECWAR 556
THE MISSION READY SUPPRESSOR
Experience solid, trouble free lock up with the Specwar 556. Made mission-ready with a fast attach mounting system enabled by its unique Active Spring Retention design, installation and removal takes seconds. The durable baffle stack and minimal point of impact shift make this suppressor the most reliable, even in the harshest conditions.
ACTIVE SPRING RETENTION (ASR)™
The Specwar 5.56 mm features the patent pending Active Spring Retention (ASR)™ mounting system for solid trouble free lockup. Installation and removal takes seconds. The use of our proprietary TrueBore™ manufacturing process ensures precise bore alignment and minimal point of impact shift. Includes a flash hider or muzzle brake.
Specifications:
Caliber: .223. 5.56mm
Overall Length: 7.30"
Diameter: 1.50 Inches
Weight: 19.5oz
Suppression Level: 133dB
Material: 17-4 PH Stainless Steel, 718 Inconel
Price: $650
Stock: ACCEPTING ORDERS!
---